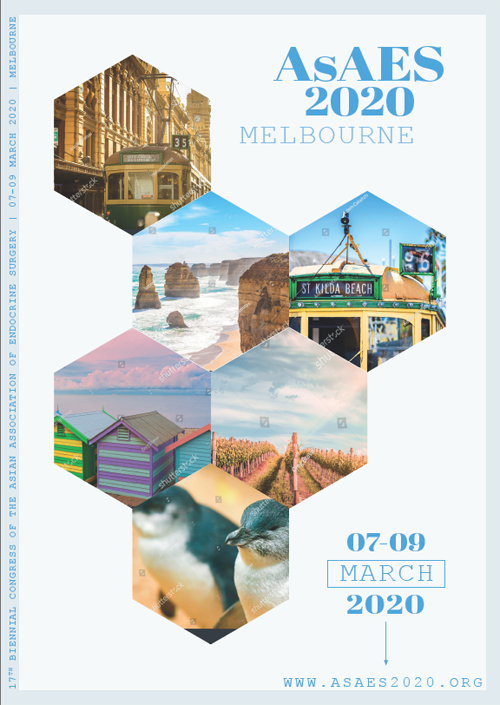 17th Biennial Congress of the Asian Association of Endocrine Surgeons
7-9 March 2020 Melbourne, AU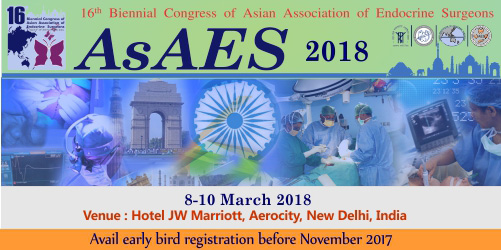 16th Biennial Congress of the Asian Association of Endocrine Surgeons
8-10 March 2018 New Delhi, India, 2018
The 16th Biennial Congress of the Asian Association of Endocrine Surgeons
The 16th Biennial Congress of the Asian Association of Endocrine Surgeons was held from March 8 to 10, 2018 at Hotel JW Marriott, Aerocity, New Delhi, India led by Congress President Professor Saroj K Mishra. He and the Local Organizing Committee worked hard for preparing the Congress. The theme of the Congress was "Building Endocrine Surgery of Tomorrow." The Congress started with the opening ceremony showing traditional Indian cultures and lightening candles by Chairman, Congress President, Secretary Treasurer, and Chairman of the Organizing Committee and some other delegates. The Congress included 4 Plenary sessions with 8 guest speakers, 4 Meet the Professor sessions with 8 professors, 12 symposium covering wide area of endocrine surgery, 4 video sessions and 9 free paper session, one of which was the session for Fujimoto Award candidates. The first, second and third prize of Fujimoto Award were given to Dr. Hyeung Kyoo Kim from Korea, Dr. Jin Wook Yi from Korea, and Dr. Kushagra Gaurav from India, respectively. The prize money was donated by Fujimoto Award Funding Committee composed with Japanese endocrine surgeons. The Congress was very successful with large number of attendants. During the Congress, Prof. Julie Miller was appointed Congress President 2020. She will hold the Congress in early March 2020 in Melbourne, Australia. Prof. Rohaizak Muhammad who served as Secretary Treasurer since 2012 wanted to resign his role. He recommended Prof. Dato' Imi Sairi as his successor. He was approved at the Council meeting. I am sure that he will serve for the AsAES as new Secretary Treasurer, the key person of our Association.
I am looking forward to seeing all of you with many of your colleagues in Melbourne in 2020.

Akira Miyauchi
Chairman
Asian Association of Endocrine Surgeons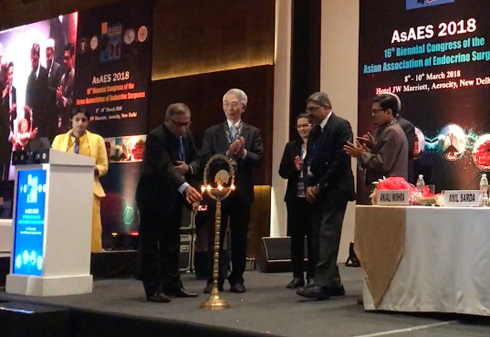 Lighting candles at the opening ceremony.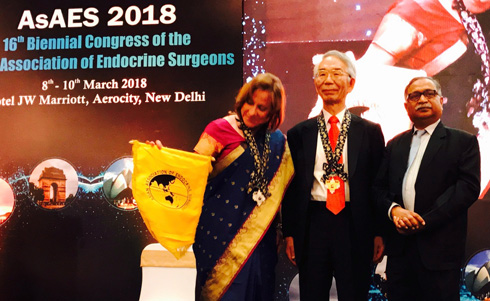 New Congress President Julie Miller, Chairman Akira Miyauchi and
Congress President Saroj K Mishra.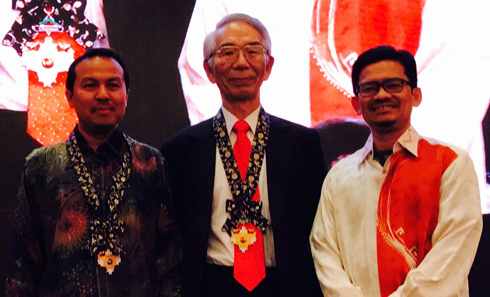 New Secretary Treasurer Imi Sairi, Chairman Akira Miyauchi and former
Secretary Treasurer Rohaizak Muhammad.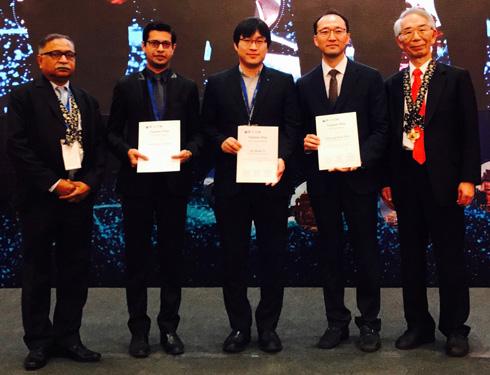 Fujimoto Prize Awardees, Dr. Hyeung Kyoo Kim, Dr. Jin Wook Yi, and Dr. Kushagra, from the right standing between Chairman Miyauchi and Congress President Mishra.